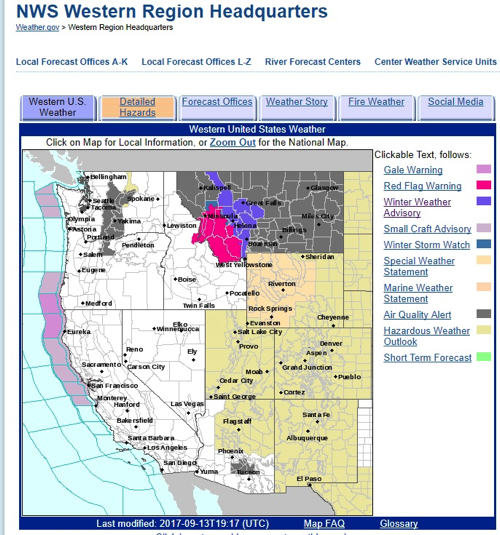 Yes, we're still 9 days away from the end of summer. But we've got Winter storm warnings in Idaho & Montana. Rest assured: this will be blamed on global warming.
URGENT – WINTER WEATHER MESSAGE Snow levels down to around 5000 feet Up to 10 inches of snow in some areas.

National Weather Service Great Falls MT 345 AM MDT Wed Sep 13 2017

Northern Rocky Mountain Front-Cascade-Central and Southern Lewis and Clark-Southern Rocky Mountain Front-Judith Basin-Jefferson-Broadwater-Meagher-

The National Weather Service in Great Falls has issued a Winter Weather Advisory For elevations above 6000 feet for snow, which is in effect from 6 PM Thursday to noon MDT Saturday.

* Locations: Logan Pass, Kings Hill Pass, Flesher Pass, MacDonald Pass, Boulder Hill, Elk Park Pass, and Homestake Pass.

* Timing: Rain will change to snow Thursday night as snow levels lower to around 5000 feet. Snowfall rates will peak Thursday night. Mountain snow will continue through Friday, gradually ending from north to south Friday night into Saturday morning.

* Accumulations: Snow accumulation of up to 2 inches on mountain passes Thursday night, with falling snow melting on road surfaces during daylight hours Friday. Snow accumulation of 3 to 6 inches over the Rocky Mountain Lewis Range, and up to 10 inches above pass level in the Little Belt and Boulder mountain ranges.

* Winds: North 5 to 10 mph with gusts up to 25 mph.

* Snow Level: Lowering to 5000 feet.

* Impacts: Slushy snow accumulation Thursday night will cause minor travel difficulties over mountain passes. Wet and raw conditions could cause hypothermia issues for firefighters, hunters, and anyone else caught unprepared in the backcountry.

* Web Page: To see a graphical representation of this hazard, please visit our web page and mouse over the Current Hazards menu, then select Detailed Hazards.

PRECAUTIONARY/PREPAREDNESS ACTIONS…

A Winter Weather Advisory for snow means that periods of snow will cause primarily travel difficulties. Use caution while driving.
Via Weather.gov