T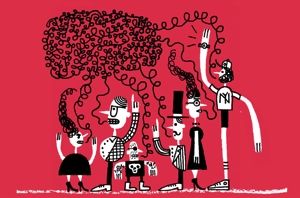 his New York Times column by Lionel Shriver about millennials' free speech problem is required reading.
He writes as a Democrat who is trying to survive the progressives. 
As a lifelong Democratic voter, I'm dismayed by the radical left's ever-growing list of dos and don'ts — by its impulse to control, to instill self-censorship as well as to promote real censorship, and to deploy sensitivity as an excuse to be brutally insensitive to any perceived enemy. There are many people who see these frenzies about cultural appropriation, trigger warnings, micro-aggressions and safe spaces as overtly crazy. The shrill tyranny of the left helps to push them toward Donald Trump.

Ironically, only fellow liberals will be cowed by terror of being branded a racist (a pejorative lobbed at me in recent days — one that, however groundless, tends to stick). But there's still such a thing as a real bigot, and a real misogynist. In obsessing over micro-aggressions like the sin of uttering the commonplace Americanism "you guys" to mean "you all," activists persecute fellow travelers who already care about equal rights.

…

How did the left in the West come to embrace restriction, censorship and the imposition of an orthodoxy at least as tyrannical as the anti-Communist, pro-Christian conformism I grew up with? Liberals have ominously relabeled themselves "progressives," forsaking a noun that had its roots in "liber," meaning free. To progress is merely to go forward, and you can go forward into a pit.

Protecting freedom of speech involves protecting the voices of people with whom you may violently disagree. In my youth, liberals would defend the right of neo-Nazis to march down Main Street. I cannot imagine anyone on the left making that case today.