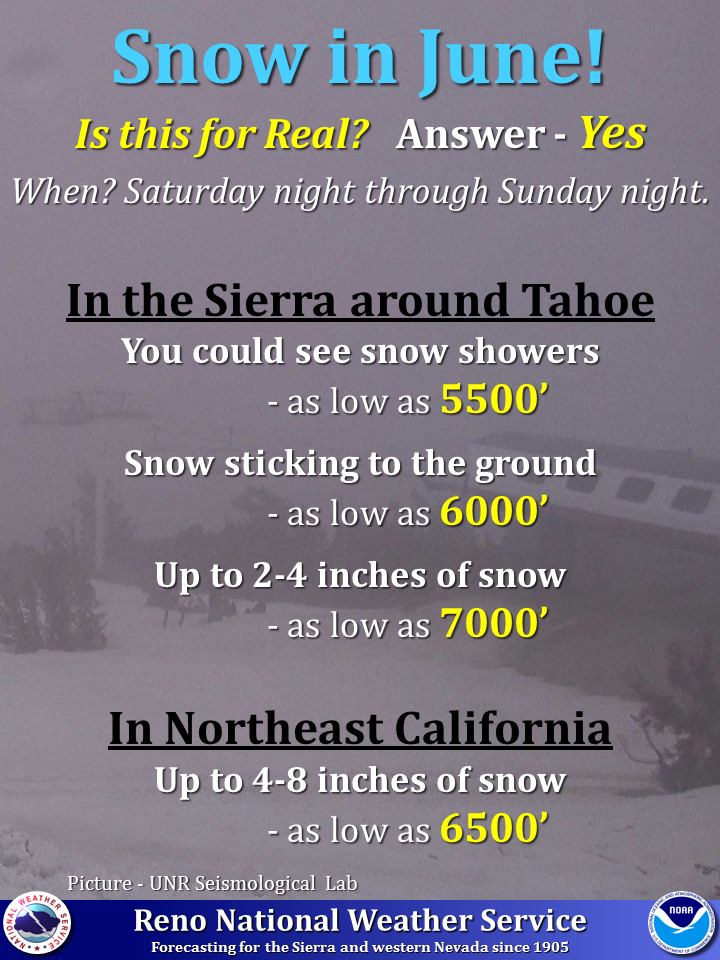 Winter – as in WINTER! – Weather Advisory for Northeast California 
National Weather Service Sacramento CA

Late Season Snow Over Northern Sierra and Lassen Park This
Weekend…

A cool weather system will bring late season snow to the
mountains of northern California this weekend. Snow levels are
expected to drop to near 5000 feet late tonight into Sunday.

Although snow levels could be locally lower, the main snow
accumulations are expected above 5500 feet. There could be around
5-10 inches of snow across Lassen Park with 1-4 inches possible
over the Sierra. Motorists traveling across the Sierra on Sunday
should be prepared for winter driving conditions.

Western Plumas County/Lassen Park-
Including the cities of Chester and Quincy

…WINTER WEATHER ADVISORY NOW IN EFFECT FROM MIDNIGHT TONIGHT TO 5 AM PDT MONDAY…

* MAIN IMPACTS…Slick roads may bring spin-outs and longer travel times. Outdoor events and recreation may be impacted. Reduced visibility in heavier showers.

* TIMING…Late Saturday night through Sunday.

* LOCATIONS…Lassen National Park.

* SNOW ACCUMULATIONS…5 to 10 inches possible above 5500 feet across Lassen National Park.
Source: Weather.gov