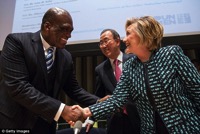 From ABC News: 
DOBBS FERRY, New York — A former president of the U.N. General Assembly awaiting trial in a bribery scandal died in a weightlifting accident when a barbell he was lifting from a bench dropped on his neck, an autopsy revealed Thursday.

John Ashe was declared dead late Wednesday afternoon by a paramedic who responded to his Dobbs Ferry home.

Dr. Kunjlata Ashar, Westchester County's medical examiner, said the cause of death – traumatic asphyxia – was determined during an autopsy, though she did not perform the procedure herself and did not have additional details. It was deemed an accident based on a combination of information from the autopsy and an investigation by the Dobbs Ferry Police Department, officials said.

The police department said in a statement that the death appears accidental, but provided little information otherwise.
What's the link to Hillary? 
Ashe was due in court Monday with his Chinese businessman co-defendant Ng Lap Seng, who is charged with smuggling $4.5 million into the US since 2013 and lying that it was to buy art and casino chips.

Ng was identified in a 1998 Senate report as the source of hundreds of thousands of dollars illegally funneled through an Arkansas restaurant owner, Charlie Trie, to the Democratic National Committee during the Clinton administration. (Ng was not charged with any crime.)

Ng and Trie had visited the White House several times for Democratic fund-raising events and were photographed with then-President Bill Clinton and First Lady Hillary Clinton.

One source told me, "During the trial, the prosecutors would have linked Ashe to the Clinton bagman Ng. It would have been very embarrassing. His death was conveniently timed."