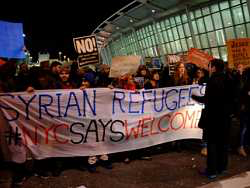 If you're afraid that terrorists from a particular country will come to kill your citizens, it makes sense to ban anyone from that place. So brace yourselves, Americans. Any day now, the Syrian government may impose a complete and total shutdown on travelers from the United States.

Donald Trump thinks there is a pipeline of violent extremists from Syria and other predominantly Muslim countries. He's right, but he's wrong about the direction of the flow. Islamic State recruits aren't coming from Syria to the United States. They are going from the United States to Syria.

Nora Ellingsen, who spent five years working on international counterterrorism investigations at the FBI, went through all the cases she could find over the past two years. Over that time, the agency "has arrested 34 Americans who aspired to leave, attempted to leave or actually left the United States to join a terrorist group overseas," she writes—compared with two refugees it has arrested from the seven countries included in Trump's travel ban.