This is like watching a "House of Cards" episode…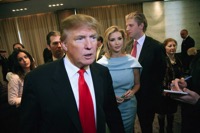 Sen. Bob Corker, R-Tenn., might not have meant it seriously when he floated Ivanka Trump's name as a vice president pick, but the family of Republican presidential candidate Donald Trump could be considering it.

"His best running mate would be Ivanka," Corker said on MSNBC after an announcement that he was withdrawing his name from consideration for VP. I know that wouldn't pass muster, probably. But I don't think I have met a more composed, brilliant, beautiful in every way person."

Eric Trump, Donald Trump's son, appeared on Fox & Friends Thursday morning and enthusiastically endorsed the idea.

"I agree, right? She's got the beautiful looks," Eric Trump said. "She's got — she's smart. She's smart smart smart smart. … She's certainly got my vote."

The hosts asked if she was 35, the minimum age to be vice president or president, and Eric Trump said she would turn 35 in October, just more than a week before the November election.

"Her birthday is at the end of October, so she'd make that by seven or eight days," Eric Trump said.