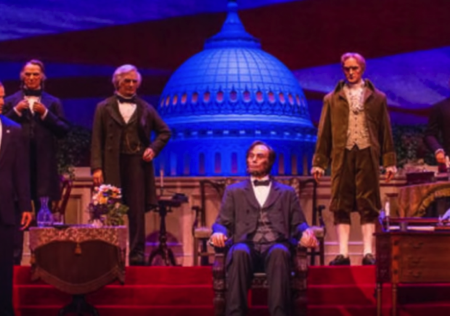 The petition reads:
This is a petition to stop the inevitable Donald Trump animatronic figure from speaking, let alone giving a speech similar to the one given by Barack Obama and past incumbent Presidents, during the "Hall of Presidents" attraction at the Magic Kingdom in Walt Disney World in Orlando, Florida.

Donald Trump ran a Presidential campaign on hateful speech, misogyny, racism and xenophobia. In doing so, he has tainted the legacy of the American Presidency forever. He is perhaps best known for how he uses his words sometimes carelessly, yet oftentimes with the specific intent of degrading, insulting and demeaning not only those who do not agree with him on any given topic, but entire groups of people including Mexicans, Muslims, women and the disabled. These are just a few of the many he has specifically targeted. He has only shown himself to be at the very least intolerant and at the very worst dangerous.

The Magic Kingdom at Disney World is a place specifically designed for the enjoyment of children and families. Therefore, it is not an appropriate place for a Donald Trump speech. We ask that Walt Disney World take a stand against divisive and hurtful rhetoric and have the backs of millions of Americans and people worldwide whose day would be ruined by the depiction of a speech by Donald Trump.
And 
The petitioner's reasons for demanding silence are gold:

That's some Grade A self-awareness fail right there:
Via LI