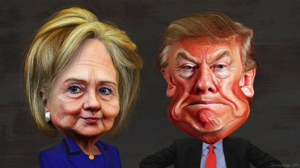 A new Washington Post-ABC News poll finds that Hillary Clinton now has the worst image she has ever had among voters her during her quarter-century in national public life.  As the Post highlights, among registered voters "Clinton's image is about as bad as Trump's":

Hillary Clinton  38% Favorable – 59%  Unfavorable
Donald Trump 37% Favorable – 60% Unfavorable

ABC's analysis points out that among all adults, 56 percent now view Hillary unfavorably, up six points in three weeks. Sixty-three percent say the same about The Donald. The findings solidify the two candidates' positions as the two most unpopular presidential candidates in polling dating back more than 30 years. What an accomplishment.

Hillary's numbers have dropped in groups that have been very supportive of her:

Her favorable rating among women dropped from 54% to 45%.
Among Hispanics, it went from 71% to 55%.
Among Liberals, it went from 76% to 63%.

Hillary's record unpopularity follows renewed attention given her extremely careless handling of very sensitive, highly classified information with her home brewed private email server and the revelations about her pay to play scheme — which looks like she sold access to the Secretary of State with huge donations to the Clinton Foundation.

ABC also notes that Hillary couldn't get much more unpopular among Republicans – 88 percent of whom see her unfavorably. But she's also lost eight points in this measure among independents (to 31 percent) and among Democrats (to 79 percent in her home party, vs. Trump's 72 percent among Republicans). There's been no change in Trump's popularity overall.

The ABC News/Washington Post poll was conducted August 24-28, 2016 and has a margin error of 3.5 percent.
Via RedState