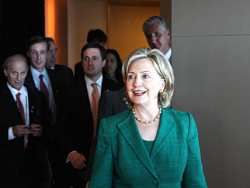 Much of the media have internalized the fantasy that the Hillary Clinton campaign is treated tougher than the Donald Trump campaign. David Harsanyi writes:
Presidential nominee Hillary Clinton was finally asked a tough question during NBC's commander-in-chief forum, so naturally the establishment media immediately coagulated around the notion that NBC's Matt Lauer was the worst moderator ever.

An Air Force and Navy veteran, who said he held "the top secret sensitive compartmentalized information clearance," said to Clinton regarding her acts as secretary of state, "Had I communicated this information not following prescribed protocols, I would have been prosecuted and imprisoned." He then asked, "Secretary Clinton, how can you expect those such as myself who were and are trusted with America's most sensitive information to have any confidence in your leadership as president when you clearly corrupted our national security?"

How could Lauer allow a veteran to spend precious time on Clinton's email "scandal," they wondered from the bubble? Since Clinton claims that her experience is what makes her ready "on day one," it's not unreasonable to wonder why she still supposedly didn't understand how classified documents worked; or why she engaged in actions that probably allowed foreign actors to access top secret information; or why she attempted to obstruct the investigation into those emails. We can't talk about Donald Trump tweets 24/7, after all.