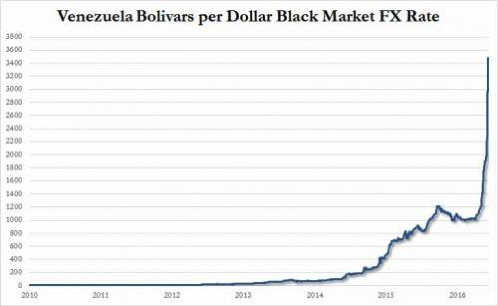 The Venezuelan currency loses 15% of its value in one day.
This is what happens when a socialist democrat runs things. 
Just last week we were amazed to report that the Venezuela currency, the Bolivar, had crashed below 2,000 for the first time ever, losing 50% of its value in just two months as the Venezuela hyperinflation had entered its terminal phase. 

As of this morning, the DolarToday.com website, maintained by a person the WSJ dubbed "Public Enemy No. 1 of Venezuela's revolutionary government, Gustavo Díaz, a Home Depot Inc. employee in central Alabama" reports that having crossed the psychological 2,000 level just one week ago, the Bolivar has just plunged to a new all time low of 3,480.22 on the black market, dropping by 15% from its latest print of 2,972 reported on Friday of last week, and has lost 60% in its value just in the past month.

So for anyone still curious what hyperinflation in real time looks like, here is the visual answer.