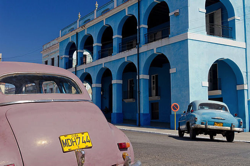 JetBlue Airways Flight 387 from Fort Lauderdale, Florida just landed in Santa Clara, Cuba, marking the first scheduled flight between the US and Cuba in over half a century. 

Onboard was US Transportation Secretary Anthony Foxx, who said in a statement, "Transportation has a unique role in this historic initiative and we look forward to the benefits these new services will provide to those eligible for Cuba travel." 

Earlier this year, the two former Cold War foes signed an agreement to restore commercial air travel. Five months later, the Department of Transportation approved six domestic airlines to begin offering service to and from Cuba. 

The arrangement allows up to 20 roundtrip flights between the US and Havana every day, as well as 10 additional trips between the US and each of Cuba's nine other airports. In total, 110 daily roundtrip flights are authorized. US passengers wishing to visit Cuba will need to fall under one of 12 authorized categories, such as family visits, official business, or journalistic activity. Restrictions on tourism will still apply.
Via The Verge