Just keep pulling the string…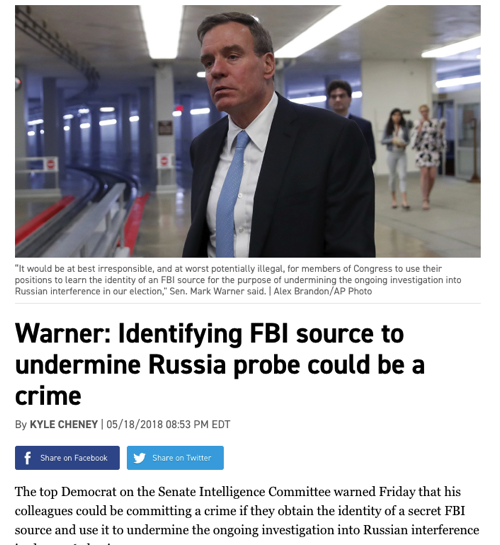 An extremely strange episode that has engulfed official Washington over the last two weeks came to a truly bizarre conclusion on Friday night. And it revolves around a long-time, highly sketchy CIA operative, Stefan Halper.

Four decades ago, Halper was responsible for a long-forgotten spying scandal involving the 1980 election, in which the Reagan campaign – using CIA officials managed by Halper, reportedly under the direction of former CIA Director and then-Vice-Presidential candidate George H.W. Bush – got caught running a spying operation from inside the Carter administration. The plot involved CIA operatives passing classified information about Carter's foreign policy to Reagan campaign officials in order to ensure the Reagan campaign knew of any foreign policy decisions that Carter was considering.

Over the past several weeks, House Republicans have been claiming that the FBI during the 2016 election used an operative to spy on the Trump campaign, and they triggered outrage within the FBI by trying to learn his identity. The controversy escalated when President Trump joined the fray on Friday morning. "Reports are there was indeed at least one FBI representative implanted, for political purposes, into my campaign for president," Trump tweeted, adding: "It took place very early on, and long before the phony Russia Hoax became a "hot" Fake News story. If true – all time biggest political scandal!"

In response, the DOJ and the FBI's various media spokespeople did not deny the core accusation, but quibbled with the language (the FBI used an "informant," not a "spy"), and then began using increasingly strident language to warn that exposing his name would jeopardize his life and those of others, and also put American national security at grave risk. On May 8, the Washington Post described the informant as "a top-secret intelligence source" and cited DOJ officials as arguing that disclosure of his name "could risk lives by potentially exposing the source, a U.S. citizen who has provided intelligence to the CIA and FBI."

The top Democrat on the Senate Intelligence Committee, Mark Warner, who spent much of last week working to ensure confirmation of Trump's choice to lead the CIA, Gina Haspel, actually threatened his own colleagues in Congress with criminal prosecution if they tried to obtain the identity of the informant. "Anyone who is entrusted with our nation's highest secrets should act with the gravity and seriousness of purpose that knowledge deserves," Warner said.

But now, as a result of some very odd choices by the nation's largest media outlets, everyone knows the name of the FBI's informant: Stefan Halper. And Halper's history is quite troubling, particularly his central role in the scandal in the 1980 election. Equally troubling are the DOJ and FBI's highly inflammatory and, at best, misleading claims that they made to try to prevent Halper's identity from being reported.