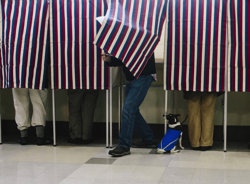 Georgia and Pennsylvania reportedly resisted an offer of help from the Department of Homeland Security.
Some states' electronic voting machines are antiquated, insecure and vulnerable to potential attacks from hostile attackers. But despite this, states like Georgia and Pennsylvania would prefer to take the risk than allow the Department of Home Security anywhere near them. NextGov is reporting that those states have rejected an offer from DHS chief Jeh Johnson to inspect the equipment for ways in which hackers could rig the vote. It comes just days after Johnson openly mulled demarcating voting machines as critical infrastructure — meaning that they'd be defended with the same ferocity as power stations.

Georgia's secretary of state Brian Kemp feels that the Department of Homeland Security is overreaching in its attempt to, uh, preserve homeland security. The report quotes Kemp as saying that moves to guard voting machines is a "vast federal overreach" that "would not equally improve the security of elections." There are some who would disagree, including UNC professor Zeynep Tufekci, who told reporters that Georgia's voting machines are "more than a decade old" and "falling apart." Then there's the fact that the hardware is running that most secure of operating systems: Windows 2000.

There's never been a proven attack on a US voting machine before, but such equipment is often targeted by hackers. The fact that Russia is suspected to have hacked the Democratic National Convention (amongst other things) suggests that the country is meddling in the 2016 general election. Protecting digital infrastructure, especially some of the most vital components of the democratic process, would seem like a no brainer. For most people, at least.