Winter weather adivisory just days before summer!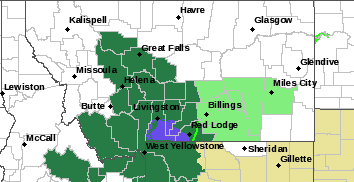 National Weather Service Billings MT
Jun 17 2018

Absaroka/Beartooth Mountains-

…WINTER WEATHER ADVISORY UNTIL MIDNIGHT MONDAY NIGHT…

* WHAT…Accumulating snow expected. Total snow accumulation of 3 to 6 inches, with local amounts up to 8 inches possible over
the highest parts of the Beartooth Highway.

* WHERE…The Beartooth Highway in the Beartooth Mountains.

* ADDITIONAL DETAILS…Plan on slick and snowpacked road conditions over the Beartooth Highway, with reduced visibilities in snowfall.
https://forecast.weather.gov/wwamap/wwatxtget.php?cwa=byz&wwa=winter%20weather%20advisory