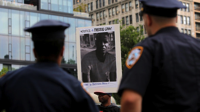 Police in Baltimore are facing a new scandal for their use of surveillance planes from the Iraq war to secretly spy on residents.
The aerial snooping has been happening since January without authorities informing the public they are being monitored for as much as 10 hours a day, Bloomberg reports.

Police from both Baltimore city and county are already under fire for the shooting of 23-year-old mother Korryn Gaines earlier this month – and face blowback from a damning report detailing the use of excessive force and targeting of minors.

Facebook censorship of #KorrynGaines police killing puts Zuckerberg in crosshairs https://t.co/dmJW7oZAS8

While a fictional version of Baltimore's police force was featured in the HBO series "The Wire," the real-life version has been criticized for its warrantless use of Sting Ray cell phone tapping equipment favored by the National Security Agency.