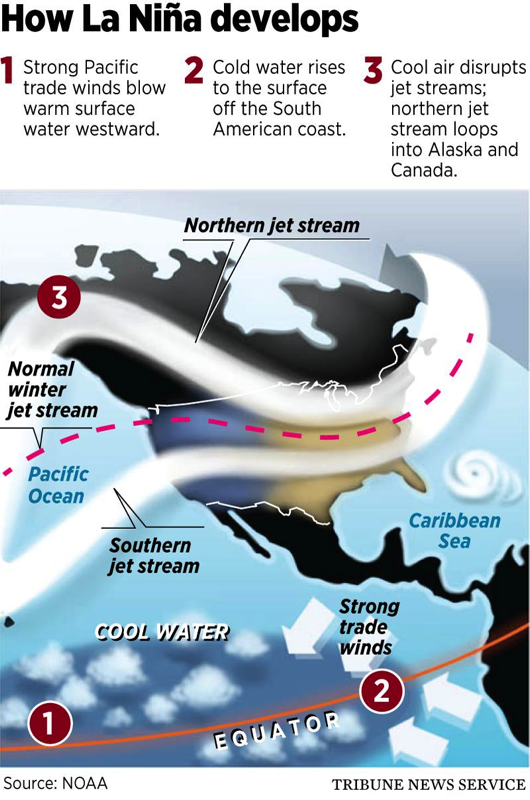 And this would include Moscow and the Palouse. Via The Spokesman-Review:
The Spokane region better brace for another snowy winter as a weak La Nina develops in the tropical Pacific Ocean.

It's too early to say for sure, but the U.S. Climate Prediction Center put the odds of a La Nina at between 55 percent to 65 percent.

The La Nina winter of 2016-17 brought weeks of brutal weather, 61.5 inches of snow to Spokane and several rounds of freezing rain and drizzle.

The new La Nina predictions come as some areas in the region – especially the mountains – braced for National Weather Service forecasts of snow and cold Thursday and Friday. Several inches of snow were forecast by Friday morning in the central Panhandle mountains and Blue Mountains of southeast Washington.

A strong area of low pressure this week has brought the cooler conditions southward from the Gulf of Alaska and threatens to cause the first widespread frost in lower elevations Friday night. Spokane's overnight low on Friday is expected to be 31 degrees.

Is this a harbinger of late fall and winter to come?

Jon Fox, forecaster for the weather service in Spokane, said he thinks Spokane will see plenty of snow, but not a brutal winter like the last one.

"I think it is going to be a more typical winter," he said. The climate center also is predicting temperatures near normal. In Spokane, that means highs near freezing. In addition, the center is calling for greater-than-normal precipitation.

Even so, that means a chance of more than 45 inches of snow, which is the city's average snowfall for the past three decades.