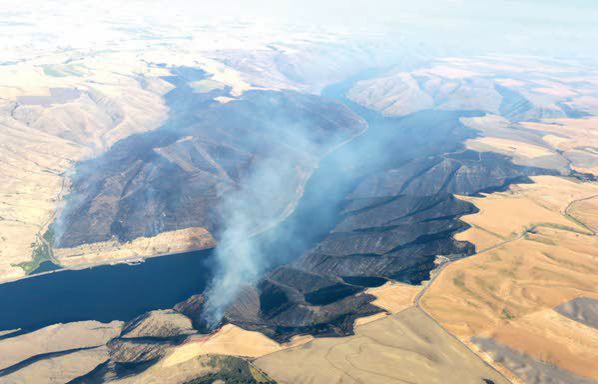 Via the Daily News: 
The Snake River Complex Fire remained at roughly 10,000 acres Thursday, but the heat began to take its toll on firefighters battling the blaze.

Public Information Officer Megan Hill said four firefighters were transported to a nearby hospital from heat-related injuries and exhaustion suffered while battling the blaze, which is burning along the Snake River in Garfield and Whitman counties.

Hill said the fire is still contained at about 10 percent, the same level of containment as was achieved Wednesday night. Hill said about 5,000 acres have burned in Whitman County about 10 miles south of Pullman and about 5,000 acres have been blackened on the Garfield County side of the river and about 10 miles northeast of Pomeroy.

Aircraft worked Thursday to extinguish the upriver side of the fire in Whitman County, and helicopters dropped buckets of water on the Garfield County side.
No evacuations are in place at this time, but Wawawai River Road is still closed from Steptoe Canyon to the intersection of Pullman-Wawawai Road. Wawawai County Park is also closed.

As of Thursday afternoon an estimated 300 firefighters were on the scene of the blaze. It's unknown exactly how much aid the state has sent to help local crews fight the fire. Hand crews, engine strike teams, helicopters and other aircraft were fighting the blaze Thursday.

High temperatures and low humidity were primary weather concerns Thursday, but the fire was not pushed by wind.

Whitman County Sheriff Brett Myers was unable to be reached for comment Thursday about three campers who admitted Wednesday to starting a campfire that may have started the massive, out of control wildfire on Tuesday.