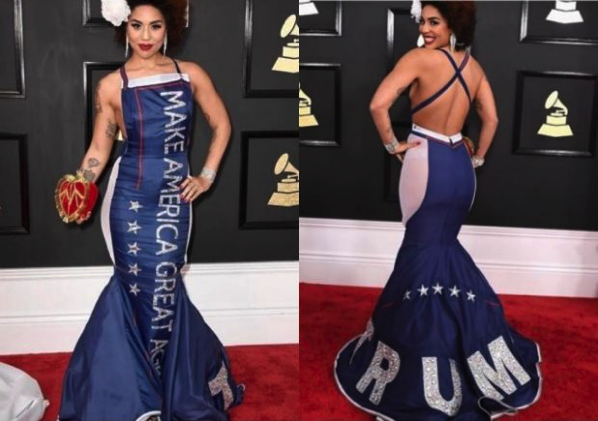 Progressives are having conniption fits. 
Singer Joy Villa turned heads when she revealed her less than subtle gown at the Grammys. 

"Go big, or go home. You can either stand for what you believe or fall for what you don't. Above all make a choice for tolerance and love. Agree to disagree. See the person over the politics, carry yourself with dignity, always. Life is made to be lived, so go boldly and give no effs! ????❤️????????????????⭐️????✨ #love #peace #joyvillagrammys #joyvilla #maga #grammys2017 #style #supportamerica," Villa wrote in an Instagram post.

Villa arrived dressed in a white cape, which she removed to reveal her MAGA dress. 

After her red carpet appearance, Villa's album jumped to the number seven on iTunes and the top of Amazon's "top digital paid albums," according to Fox News.

Naturally, not everyone was pleased with Villa's overt Trump support.
Making the whole ordeal even more delicious, the dress was designed by Filipino immigrant, Andre Soriano. Soriano is also a Trump supporter:
The designer behind Joy Villa's pro-Trump, "Make America Great Again" Grammys gown, Filipino immigrant Andre Soriano, tells THR that he is supportive of the new president despite his controversial immigration ban, and that the message of the dress was one of positivity.

Soriano skirted questions regarding the meat of his political beliefs, but said he is a proud American and believes that he is an example of the American dream. He was first discovered on Rihanna's Bravo reality show, Styled to Rock, and launched his label in San Diego in 2013, selling ready-to-wear and red-carpet looks online only. He is a naturalized citizen.

"There are a lot of people that are in power that really misconstrued what this country stands for," he said. "I love this country. I'm from the Philippine islands, I am a proud American. I really love this country. I am a minority, Joy is black. America is about immigrants."

…

"I always channel Joy's music as a designer — we're both artists, and I love her so dearly," says Soriano. "She is one of the people on this planet that really promotes love. We need to move this country forward, and we believe it's time to promote love. We only live once, and we need to promote love. We have one president now who is going to do the best thing for planet America."
Via LI