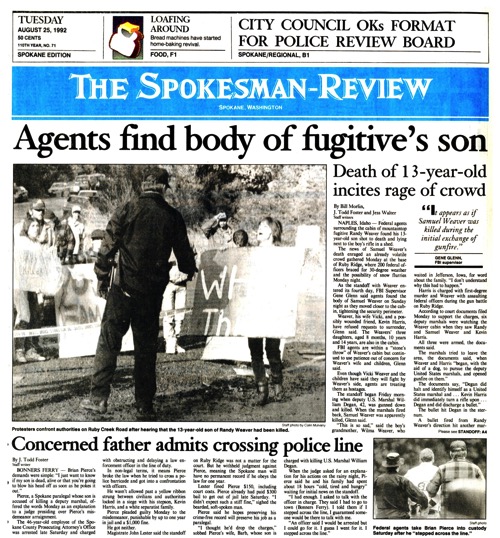 It's hard to believe that it's been 25 years since the Ruby Ridge massacre.
In the end, Weaver's 13-year-old son was shot dead; his unarmed wife, with the baby in her arms, was shot dead, and Weaver and a friend were shot.
There was very little support for this action, especially since Weaver's alleged crime was making two sawed-off shotguns — which the courts dismissed as entrapment by the ATF.
Randy Weaver was acquitted of all charges against him, except for missing a court date. For this, he was shot, his wife and son murdered. Little reason that Ruby Ridge is a boiling point for those who distrust the overreaching federal government.
Via the Spokesman Review:
Agents find body of fugitive's son; death of 13-year-old incites rage of crowdAgents find body of fugitive's son; death of 13-year-old incites rage of crowd

NAPLES, Idaho – Federal agents surrounding the cabin of mountaintop fugitive Randy Weaver found his 13-year-old son shot to death and lying next to the boy's rifle in a shed.

The news of Samuel Weaver's death enraged an already volatile crowd gathered Monday at the base of Ruby Ridge, where 200 federal officers braced for 30-degree weather and the possibility of snow flurries Monday night.

As the standoff with Weaver entered its fourth day, FBI Supervisor Gene Glenn said agents found the body of Samuel Weaver on Sunday night as they moved closer to the cabin, tightening the security perimeter.

Weaver, his wife Vicki, and a possibly wounded friend, Kevin Harris, have refused requests to surrender, Glenn said. The Weavers' three daughters, aged 8 months, 10 years and 14 years, are also in the cabin.

FBI agents are within a "stone's throw" of Weaver's cabin but continued to use patience out of concern for Weaver's wife and children, Glenn said.

Even though Vicki Weaver and the children have said they will fight by Weaver's side, agents are treating them as hostages.