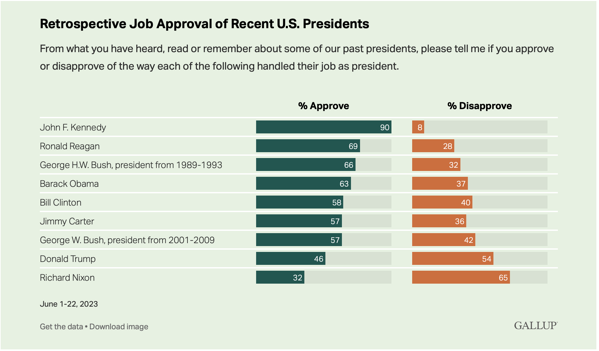 I have to wonder if this is the RFK Jr. effect. 
STORY HIGHLIGHTS

Kennedy's retrospective approval rating reaches 90% for first time
Most former presidents rated positively by majority of U.S. adults
Ratings of Kennedy, George W. Bush, Nixon improve modestly since 2018

WASHINGTON, D.C. — John F. Kennedy remains the most highly rated former president when Gallup asks Americans whether, in retrospect, they approve or disapprove of the job each did as president. Ninety percent of U.S. adults now approve of the job Kennedy did, 21 percentage points higher than second-place Ronald Reagan's rating.

Seven of the nine past presidents included in the poll receive majority retrospective approval ratings. The two exceptions are Donald Trump, with 46% of Americans approving owf the job he did in his initial retrospective approval rating, and Richard Nixon, at 32%.

Gallup has periodically measured past presidents' retrospective approval ratings since 1990. This year's poll, conducted June 1-22, includes nine of the past 11 presidents, excluding Lyndon Johnson and Gerald Ford, about whom nearly 20% of Americans could not offer opinions in the prior survey five years ago.

The retrospective approval ratings of Kennedy, George W. Bush and Nixon have all increased slightly — by four points — since that 2018 poll.

Meanwhile, Bill Clinton's approval rating has dropped four points, from 62% to 58%, following a seven-point decline in his rating between 2010 and 2018. As a result, Clinton now ranks behind Kennedy, Reagan, George H.W. Bush (66%) and Barack Obama (63%), whereas in 2010, he ranked third.

Still, Clinton's current rating is significantly better than Gallup's first retrospective reading after he left office — 51% in 2002. In fact, most presidents' new retrospective ratings are better than Gallup's initial post-presidency ratings of them, by an average of seven points. Only Nixon's and Obama's current ratings are not significantly higher than their initial retrospective ratings.
https://news.gallup.com/poll/508625/retrospective-approval-jfk-rises-trump.aspx