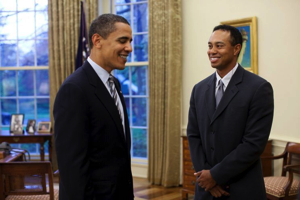 US taxpayers were hit with a $3.6 million bill for Barack Obama to play golf with Tiger Woods.
 

Tiger Woods and President Barack Obama played golf together in a February 2013 mini-jaunt, and that trip turned out to cost the U.S. taxpayer a lot of money.

 

Filings from the Government Accountability Office (GAO) showed that the four-day trip to Florida, where Woods lives, came at a combined cost of $3.6 million to the Department of Defense and the Department of Homeland Security. The Washington Times first reported on the filing.

 

So how did that trip cost so much?

 

According to the Times, the bulk of the cost came from 22 total flight legs flown by six military transport planes involving 14 different commercial airports, as well the actual operation of Air Force One, which costs approximately $200,000 per hour of flight. The breakout of the total cost was $2.8 million billed to Defense and $767,000 to Homeland Security.

 

Obama not only played with Woods as part of the trip, he also got some golf lessons from Butch Harmon and his son and renowned instructor Claude Harmon III. The Commander-in-Chief also played a few other rounds of golf — now having logged more than 300 while in office — outside of the time with Woods on the links.

 

Woods wasn't the only presidential playing partner on the trip, either. Houston Astros owner Jim Crane, U.S. trade representative Ron Kirk and fundraiser Tony Chase joined Obama, too.