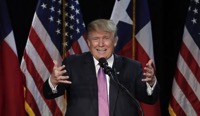 The specter of Donald Trump's presidential nomination being ripped from under him in a nastily contested Republican National Convention next month is alive — again.

Anti-Trump forces appeared to have been defeated after he ousted his remaining opponents from the race in early May and Senate Majority Leader Mitch McConnell, House Speaker Paul D. Ryan and Republican National Committee Chairman Reince Priebus all signaled that Mr. Trump had sewn things up.

But weeks of bad press stemming from Mr. Trump's criticism of a federal judge and uneven handling in the aftermath of the Orlando, Florida, terrorist shooting have kick-started efforts to deny Mr. Trump the nomination on the convention floor.

The dump-Trump forces may have received another opening last week when Mr. Priebus tapped Utah RNC member Enid Greene Mickelsen and Massachusetts RNC member Ron Kaufman as Republican National Convention Rules Committee chairwoman and co-chairman, respectively.

Ms. Mickelsen and Mr. Kaufman are political consorts of Mitt Romney, the 2012 Republican presidential nominee, who has announced he would not support Mr. Trump and has worked to recruit a challenger.

Ms. Mickelsen, Mr. Kaufman or both could explicitly or implicitly encourage delegates committed to vote for Mr. Trump to "vote their conscience" instead. If enough of them vote for anyone else, they could deny the billionaire businessman the 1,237 votes requisite for first-ballot victory. It would be difficult for Mr. Trump to recover from such a loss on subsequent ballots.

Some anti-Trumpers are hoping to go even further — to get the convention to pass new rules freeing "bound" delegates from their commitments to vote for Mr. Trump on the first ballot. They held an organizing call Sunday to talk strategy and said there are plenty of alternatives to Mr. Trump if delegates aren't bound to him.