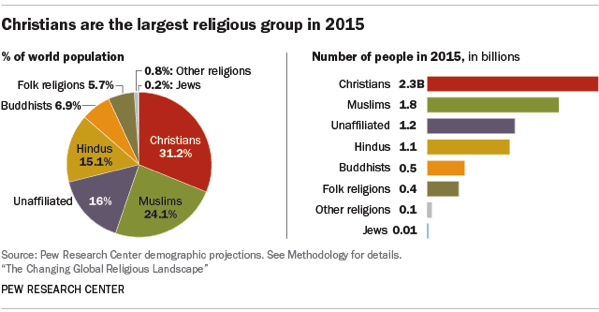 Christians remain world's largest religious group, but they are declining in Europe. 
Christians remained the largest religious group in the world in 2015, making up nearly a third (31%) of Earth's 7.3 billion people, according to a new Pew Research Center demographic analysis. But the report also shows that the number of Christians in what many consider the religion's heartland, the continent of Europe, is in decline.

Christians had the most births and deaths of any religious group in recent years, according to our demographic models. Between 2010 and 2015, an estimated 223 million babies were born to Christian mothers and roughly 107 million Christians died – a natural increase of 116 million.

But among Christians in Europe the reverse is true: Deaths outnumbered births by nearly 6 million during this brief period. In Germany alone, there were an estimated 1.4 million more Christian deaths than births from 2010 to 2015. This natural decrease in Europe's aging Christian population was unique compared with Christians in other parts of the world and other religious groups. In fact, Muslims and the unaffiliated in Europe both experienced natural increases in their populations, with our new report estimating that there were over 2 million and 1 million more births than deaths, respectively, between 2010 and 2015.