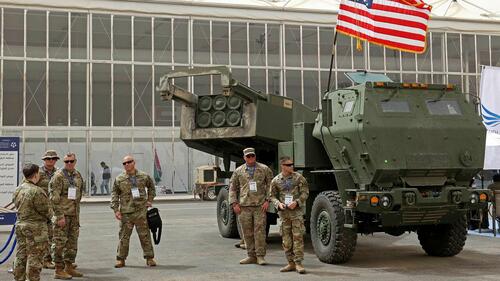 Now they start worrying about the billions of dollars in weapons ending up in the wrong hands?
Or was that their plan from the beginning? Recall Obama's gunrunning into Mexico? Fast and Furious? 
Much belatedly now that there's a seemingly endless US weapons pipeline going into Ukraine, the Pentagon is worried they might end of in the "wrong hands" and is seeking to take steps to do something about it. It now wants to track serial numbers of US weaponry on the ground as the fight for Ukraine continues.

As early as April US officials began admitting that once advanced systems like Javelin anti-tank weapons cross into Ukraine they have no idea where they go from there. There's speculation that some percentage of Western-supplied arms will be resold on the black market, or even make there way to other conflicts outside Ukraine, such as in the Middle East.

Image source: AFP/Getty
"We have fidelity for a short time, but when it enters the fog of war, we have almost zero," one intelligence source told CNN in a prior report. "It drops into a big black hole, and you have almost no sense of it at all after a short period of time."

But on Thursday, the Pentagon's Defense Security Cooperation Agency (DSCA) issued a statement urging US military leaders to send weapons inspectors into war-torn Ukraine in order to directly monitor the literal billions of dollars in arms being handed out.

This would go beyond the current set-up of the Pentagon simply taking Ukrainian officials' "word for it" when it comes to proper distribution and usage of weapons and ammo against the Russian invading forces. After all, there have been signs the Department of Defense is tapping into America's own vital stockpiles in order to supply the Ukrainians.
Pentagon Agency Wants Arms Monitors On Ground In Ukraine To Track Billions In Hardware Shipped | ZeroHedge