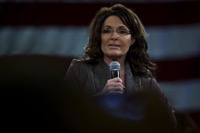 Sarah Palin wrote a fiery Facebook post slamming "cultural influencers" in politics and the media who stirred division leading up to the Dallas attack. She said if she must choose a side, she'll choose the "Thin Blue Line."

"Shame on politicians and pundits giving credence to thugs rioting against police officers and the rule of law in the name of 'peaceful protests.' It is a farce. #BlackLivesMatter is a farce," she wrote.

The former Alaska governor called on the media to "quit claiming the rioters are 'peaceful' as they stomp on our flag, shout 'death to cops!' and celebrate violence."

 

 

"Get fed up and stand up if you're sick of being called racist when proclaiming EVERY LIFE MATTERS, black as much as white and every skin tone in between. Every innocent life – at every stage of life – on the side of good over evil, matters."

Palin said that if she has to choose sides, she'll "side with the Thin Blue Line."

"To side with our public servants trying to keep law and order amidst political agendas that clearly oppose that virtue is how the good guys win again. It's the only way to ensure our best days will be ahead of us. Join me."
Read the full post here.