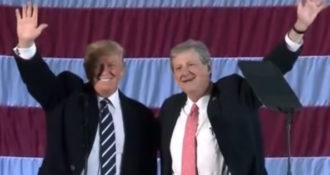 Progressives are going to need their valium more than ever, now. 
It was a good weekend for the GOP and Donald Trump as the great state of Louisiana handed them even bigger majorities in both Houses of Congress.

Frist in the Senate, thanks in large part to Louisiana's odd election methodology, Republican John Kennedy easily defeated his Democrat rival Foster Campbell in a runoff. Kennedy was the leading vote getter on election night, November 8th, but Louisiana's system forces a runoff between the top 2 candidates if no one can win the majority of votes. The race was seemingly never in question, but even so, President-elect Donald Trump traveled down to the Bayou State earlier this week stump for Kennedy.

"He's a great guy…somebody that I've known over the years," Trump said of Kennedy, speaking from Baton Rouge, Louisiana on Friday afternoon. "If you go to the polls, he's going to win. If you don't go to the polls, he's not going to win."

Trump: If John Kennedy doesn't win the Senate seat in Louisiana, "I've got myself a problem in Washington" https://t.co/L0E542tG5u

— CNN Politics (@CNNPolitics) December 9, 2016

But Trump had little reason for concern as Kennedy cruised to victory on Saturday.