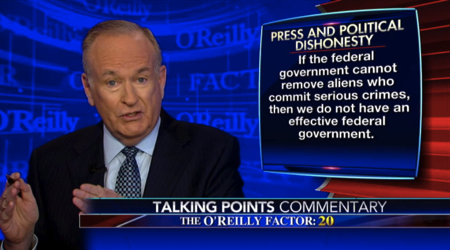 O'Reilly Slams 'Disgraceful' Media Coverage of Immigration Raids
On Monday night's "The Factor," Fox News host Bill O'Reilly addressed the "stunning display of dishonesty from the radical press" last week with its coverage of the immigration raids that led to the arrests of hundreds of criminal illegal aliens who had committed crimes in the U.S.

Last week, federal immigration officials arrested more than 600 people across at least 11 states, The New York Times reports. 

Of those arrested, 75 percent were criminal illegal aliens who had been convicted of serious crimes such as homicide and rape, the Department of Homeland Security said in a statement. 

O'Reilly argued that the facts behind the raids "have largely gone unreported" by the media, including how most of those taken into custody had been deported before.

"But those facts have largely gone unreported by the American press and by the radical left, which is actively misleading you," said O'Reilly.