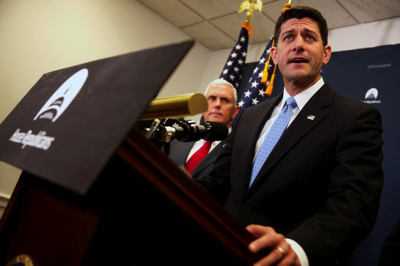 Both Houses of Congress pass a resolution for a budget that will allow the repeal of the tax and spending provisions of Obamacare with a simple majority vote. The budget resolution also added trillions of dollars to the national debt. This is not a bill, so no changes to US law will occur from its passing and it does not require a presidential signature. 
Republicans in Congress can now repeal most of the Affordable Care Act with a simple majority vote.

The House on Friday passed a budget resolution allowing Congress to bypass a Democratic filibuster in the Senate if and when they vote to gut the health law. The vote was 227-198, with nine Republicans joining all the Democrats in opposition. The Senate passed the same measure earlier this week on vote of 51-48. Because the resolution is a non-binding budget blueprint and not an act of law, it does not require a presidential signature.

What Congress approved this week was a necessary procedural step giving Republicans the power to repeal the tax and spending provisions of Obamacare, and the party demonstrated the ability to overcome some internal resistance to moving so quickly to dismantle the system enacted by President Obama and congressional Democrats.

But the next step will be much harder—actually repealing the Affordable Care Act. House and Senate committees must draft and pass legislation in accordance with the budget resolution, and party leaders will need to unify rank-and-file Republicans around a move that could generate significant political blowback from constituents anxious about how repeal will affect their health coverage. Under pressure from President-elect Donald Trump, GOP leaders have begun pledging to begin replacing Obamacare concurrently with repeal, but its not yet clear how they intend to do that given that the party has been unable to coalesce around specific healthcare legislation in the six years since the law was enacted.

The debate in the House on Friday provided a preview of the much more consequential fight to come. Republicans argued that the health law was already failing on its own and that they were moving urgently to "rescue" Americans struggling under rising premiums and fewer insurance options.