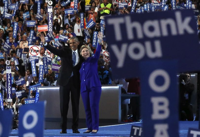 His own legacy on the line, President Barack Obama implored Americans to elect Hillary Clinton to the White House, casting her as a candidate who believes in the optimism that drives the nation's democracy and warning against the "deeply pessimistic vision" of Republican Donald Trump.

"America is already great. America is already strong," he declared to cheering delegates Wednesday night at the Democratic convention. "And I promise you, our strength, our greatness, does not depend on Donald Trump."

For Democrats, the night was steeped in symbolism, the passing of the baton from a barrier-breaking president to a candidate trying to make history herself. It culminated with Clinton making a surprise appearance on stage to greet Obama with a long embrace, an almost unimaginable image eight years ago when they battled for the Democratic nomination.
Via the AP