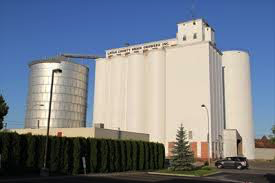 This is what a takeover looks like: buying property no-one else wants and fixing it up.
Andrew Crapuchettes plans to buy the 46,220 square-foot Jackson Street Silos property in Moscow, but his plans for development of the property are only ideas at this point.

"It is probably a slow play," Crapuchettes said Thursday. "We're not going to do anything right away, but there's lots of possibilities."

He said he has always wanted to own the grain silos, which are located southwest of the Sixth and Jackson streets intersection, because he thinks they are very cool.

"I want to make them a really cool thing," he said.

He said he would like to make the property look nice in the meantime. Crapuchettes said, at minimum, he wants to knock the weeds on the property down.

He said he does not plan to demolish the silos.

"They're iconic," Crapuchettes said. "I don't know if and when I'm going to be able to develop them, but the land obviously has some value, and I'd like to do something cool and neat there, but to be determined."

"I've always wanted to own a pancake restaurant, and I always thought the metal (silo) looked like a rocket ship if you were to put fins on it," Crapuchettes said.
He said the area is a good part of town for development considering the recent construction of Gritman Medical Center's Medical Office Building near the silos on Main Street, and Sangria Downtown LLC construction is expected to start next month on the corner of Sixth and Jackson.

"I believe in Moscow real estate," Crapuchettes said. "I think that it's in a key location. There's going to be a lot of development around it."

More Crapuchettes' development ideas include turning a silo into an office building, he said. Crapuchettes said since he is a member of many companies' boards around the country, he is speaking with some of those businesses about moving offices to Moscow.

Retail and apartments are other ideas, he said.

"It's cool that I now am going to own what will be the tallest building in Moscow for quite some time," Crapuchettes said.

Crapuchettes said the sale is expected to close Aug. 23.

The property has been owned by Anderson Group LLC for about 10 years. It put the land on the market more than a year and a half ago with an asking price of $1.1 million.

The Anderson Group purchased the property for $750,000 in July 2007, according to previous Daily News reporting.