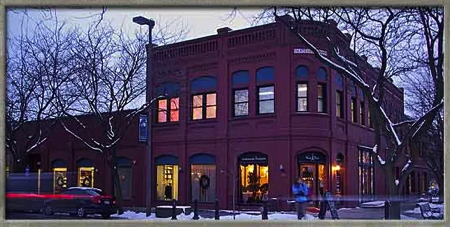 College wants to convert building to concert hall that could seat 680
Via LMT: 
A controversial proposal by New Saint Andrews College to expand its presence in downtown Moscow highlights the Moscow City Council meeting this evening.

The Moscow Board of Adjustment approved a conditional-use permit for the college in April, authorizing the conversion of a former nightclub/bar and some retail space into a new music conservatory and concert hall.

Five people appealed the board's decision, largely because of concerns about parking and the potential impact on the character of the downtown business district. The council will now determine whether to uphold or repeal the conditional-use permit, or send the issue back to the board for further consideration.

The proposed conservatory, located at 112 N. Main St., would have room for 300 full-time students – almost double the current enrollment of the college – as well as 44 faculty members. The concert hall would provide seating for 680 people.

In its conditional-use application, New Saint Andrews indicated it wants the concert hall to be "the pre-eminent venue in the greater region for music performances." Moreover, while the facility would allow the college to triple its enrollment, the hope is that it would also "further Moscow's reputation as the Heart of the Arts by encouraging community involvement and (public) performances."

More than 40 people testified for or against the proposal during the April Board of Adjustment hearing. Some said the expansion would benefit downtown restaurants and businesses, while others expressed concern about the impact on parking.

The conditional-use permit requires the college to provide 47 additional parking spots within a half-mile of the facility. Critics, however, say that was based on incomplete or faulty data, given that the city planning staff didn't count how many parking spots were open during the lunch hour or evening rush hour.

Some people also suggested that allowing an educational facility to expand its presence would erode the available retail space and change the character of the downtown core.

The city council will consider testimony from the five people who appealed the Board of Adjustment's decision during tonight's meeting, as well as rebuttal from New Saint Andrews.

In other action, the council will consider two resolutions allowing for the temporary expansion of sidewalk cafes and for temporary beer and wine gardens to be opened in the downtown central business district during the Artwalk celebration on June. 17.

The meeting begins at 7 p.m. at city hall, 206 E. Third St.