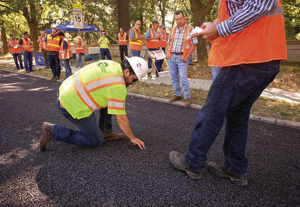 One major challenge consistently facing Moscow is deteriorating roads.

The city traditionally has used standard asphalt chip seal treatments on streets, but it hopes a new method of incorporating rubber into the asphalt chip seal treatment process will help give the roads an extended lifespan.

That method will be put to test after Intermountain Slurry Seal, a Western U.S. pavement preservation company, started an asphalt rubber chip seal treatment Monday on D Street from Main to Grant streets, Lincoln Street from B to E streets, F Street from Orchard Avenue to Mountain View Road and Sixth Street from Hayes to Blaine streets. The street project is expected to end today.

Public Works Director Les MacDonald said the city contracted with Intermountain Slurry Seal for $190,920 to complete the work.

MacDonald said the asphalt rubber chip seal treatment costs a little more than a standard chip seal because an additional material – rubber from recycled tires – is added to the aggregate and oil used in a standard pavement. The resulting surface, however, seals the road more efficiently than a standard chip seal treatment, preventing water from penetrating the road and damaging the road base, according to a city press release issued last week. The release said the rubber provides structural support that increases the lifespan of the roadway.
Via the Moscow-Pullman Daily News