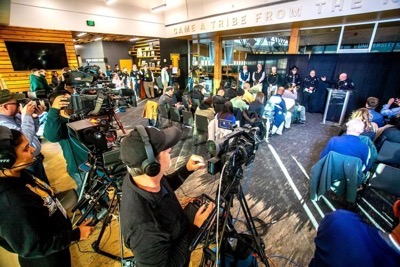 TL;DR: 
Detectives are releasing that on the morning of November 13th, the surviving roommates summoned friends to the residence because they believed one of the second-floor victims had passed out and was not waking up. At 11:58 a.m., a 911 call requested aid for an unconscious person. The call originated from inside the residence on one of the surviving roommates' cell phone. Multiple people talked with the 911 dispatcher before a Moscow Police officer arrived at the location. Officers entered the residence and found the four victims on the second and third floors.
At this time in the investigation, detectives do not believe any individual at the residence, when 911 was called, is involved in this crime.
Rumors and speculation continue circulating about the ongoing investigation. MPD cautions the public not to rely on rumors and remains committed to keeping the public informed. We urge reliance on official channels for accurate information.
TIPS: Detectives are looking for context to the events and people involved in these murders. Anyone who observed notable behavior, has video surveillance, or can provide relevant information is asked to call the Tip Line at 208-883-7180 or email tipline@ci.moscow.id.us.
The Moscow Police Department held a news conference this afternoon to provide an update into its investigation of the murders of University of Idaho students Ethan Chapin, Xana Kernodle, Madison Mogen and Kaylee Goncalves.

No suspects have been arrested and the murder weapon hasn't been found. Not many new details about the case were provided. Here were some of the notable statements:

MOSCOW POLICE CHIEF JAMES FRY

"We are thankful for all of the tips and leads the public has provided in Ethan, Xana, Kaylee and Madison's murder investigation," Fry said. "No bit of information is too small and every tip will be pursued. So far, this information has helped investigators build a picture of the areas of interest and the relationships these four had with each other and our community. We still believe there is more information to be gathered, which will continue creating a window through which we review this case. We all want to understand why this happened and what drove someone to do this."
"We ask anyone with any information related to what happened to these four in our community, their interactions with others, and whether they expressed concern or commented about someone or something strange to get that information to us," Fry said. "Even if you don't believe it is relevant, investigators will review and determine if and how the information building the picture."

MOSCOW POLICE CAPT. ROGER LANIER

A reporter asked how students can avoid being targeted themselves in light of this event. "Well, that's a great question, especially in light of what just happened," Lanier said. "If you would have asked us nine days ago, we would have had probably a difference answer. Moscow has always been a very safe community. In light of this, and maybe we should always look at it this way, vigilance, always traveling in pairs, know where you're going, telling someone when you arrive, and just that kind of general awareness. Maybe we should, as a community, always have been doing that. In some ways, this took our innocence. I would tell students, you need to stay with a friend. University staff is looking at difference options to increase some of the safety on campus and providing certain options to students. Going forward, there's a lot of things maybe we wish we would have done before but we need to start doing now."
A reporter asked why the police haven't said which victim or victims were the ones targeted by the murderer. Lanier said that's been held under wraps for the integrity of the investigation. "We've told the public very clearly from the beginning that we're looking for a knife," he said. "We told the public very clearly from the beginning that we believe it was a targeted attack. To be honest, you're going to have to trust us on that at this point, because we're not going to release why we think that."
Lanier said the murder investigation remains the "highest priority" for the Moscow Police Department. Investigators will work through the Thanksgiving holiday on the case.

IDAHO STATE POLICE COL. KEDRICK WILLS

Wills said investigators have collected 103 pieces of evidence, took 4,000 photos and multiple 3D scans of the residence. Investigators have also put in hundreds of hours, fielded 1,000 total tips and done 150 interviews.
Wills also said Gov. Brad Little has committed $1 million to pay for expenses related to the investigation.
https://dnews.com/moscow-murders-in-some-ways-this-took-our-innocence-police-say-during-news-conference/article_d8054450-3951-54a6-a397-86a077ca31e6.html