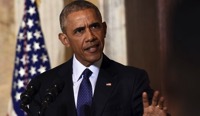 Rifts have emerged between U.S. military leaders and the Obama White House on Washington's future role in Libya, with the generals questioning the White House's argument that the recent success against Islamic State shows Libya can go it alone in the fight against terrorism, without direct U.S. assistance.

Marine Corps Gen. Thomas Waldhauser, the White House's pick to lead U.S. Africa Command, called for increased American military action in Libya to ensure Islamic State, or ISIS or ISIL, does not reconstitute itself in the country as pressure ramps up against its strongholds in Iraq and Syria.

Gen. Waldhauser told a Senate Armed Services Committee confirmation hearing Tuesday that U.S. military planners were drafting up battle plans for airstrikes against ISIS targets in Libya, Reuters reported. The fledgling unity government in Tripoli has enjoyed surprising success in recent weeks in a campaign against Islamic State's stronghold in the coastal city of Sirte.

But the current rules of engagement for U.S. forces in Libya, which require White House approval for any offensive operations in the country, have hamstrung American military planners in the region, according to the report.

Aside from clandestine drone strikes launched from NATO bases in southern Europe and small rotations of U.S. special operations teams working with local militias in Libya, the Pentagon has not conducted any large-scale military mission in the country since the cancellation of a failed train-and-advise operation late last year.