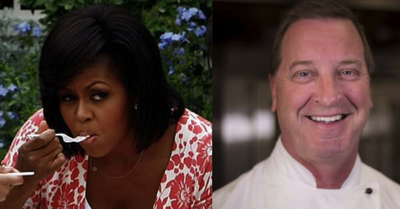 There is something both ironic and poetic about this.
The "guru" behind former-First Lady Michelle Obama's much-hated and widely-derided school lunch program has just been arrested for … defrauding the school lunch program.
The initiatives won the district numerous awards, drew praise from then-First Lady Michelle Obama as she led a national push to combat childhood obesity, and earned Binkle appearances on Tedx Talks.

But as he was revolutionizing meals for the district's students, prosecutors allege, Binkle illegally funneled roughly $65,000 of the district's money into a private consulting firm he ran, then placed some of that money into his own pocket.

The 55-year-old appeared in court on Tuesday and pleaded not guilty to 15 felony counts including embezzlement and misappropriation of public funds. He posted $220,000 bail and is scheduled to return to court in October.