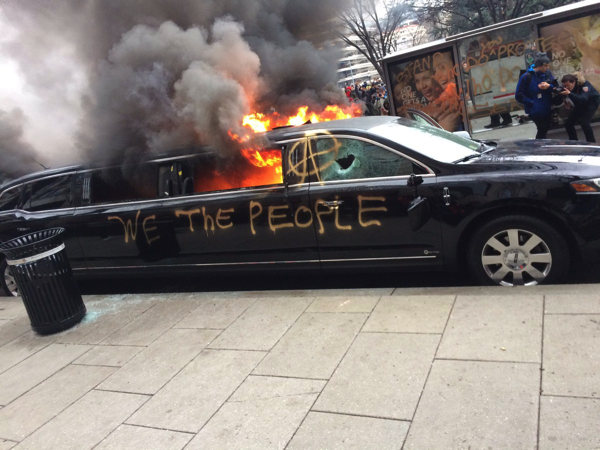 Oh, the irony! 
As it turns out, the owner of the limo that was torched during protests outside of President Donald Trump's inauguration in Washington, D.C. doesn't actually belong to a symbol of the Trump-supporting wealthy white Christian patriarchy.

As MRCTV witnessed on Friday, black bloc protesters smashed a limousine as part of their Trump protests. Later in the evening, the protesters set the limo on fire.

In an interview with Red Alert Politics, the owner of the limo company revealed he is not the embodiment of the rich, white male the rioters were presumably protesting. Rather, he's a Muslim immigrant who did not even support Trump during his campaign.

Muhammad Ashraf, the owner of Nationwide Chauffeured Services, told Red Alert Politics, "I did not agree with many of the things [Trump] said, but that still does not give me the right to go and affect someone's livelihood."

He added, "I really don't think we need to take this [violent] route."

The limo driver, Luis Villarroel, was reportedly dropping off a client when protesters began throwing rocks at his car. According to Red Alert Politics, Villarroel sustained injuries as the result of the protesters attacking his car.
Via MRCTV