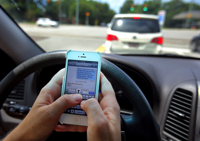 The adults riding a school bus roaming around Moscow's main city streets this week were not headed to school.

They were law enforcement officers searching for drivers committing traffic violations. They placed a special emphasis on catching drivers who were texting and driving, which is illegal in Idaho.

Members of the Moscow Police Department, Idaho State Police and Latah County Sheriff's Department rode a school bus from 3-8 p.m. Tuesday and Thursday, armed with a video camera, radio and observation form.

MPD Chief James Fry said 60 total traffic stops were made between 3-8 p.m Tuesday.

When a driver was witnessed committing a traffic violation, an officer radioed to a patrol car in the area, and a stop would be made. The officers on the bus used a video camera to record violations.

ISP Sgt. Rich Adamson said he got the idea of officers riding a bus from a national highway safety summit earlier this year in Long Beach, Calif., and he proposed the tactic to the MPD.

Officers were directed to hand out Idaho Transportation Department brochures on aggressive driving and distracted driving to drivers who were pulled over for such violations. According to the brochures, sending or receiving a text takes a driver's eyes off the road for an average of 4.6 seconds. If a driver is traveling 55 mph, he or she will essentially be driving blind for the length of a football field.

Adamson said being on a bus is an advantage for officers, as they are sitting higher up than the average vehicle and can look down and identify what drivers are doing easier than if they were in a marked patrol car.
Via the Moscow-Pullman Daily News