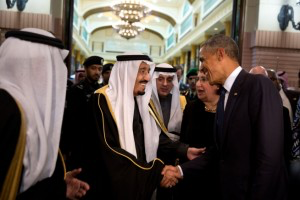 The Obama Administration continues to lie about Iran arming the Houthi.
I'm so glad that he won that Nobel Peace Prize, nominated 11 days after taking office. And look what he's done for global peace. 
The Obama administration has carried out a deliberately deceptive campaign accusing Iran of covertly sending arms to the Houthis by sea, a claim that Washington cites to help justify the Saudi massive air attack against the Houthis that began last year.

By repeating the accusation over and over, the administration has been largely successful in turning a dubious allegation into accepted fact, even though it is contradicted by evidence that is well-documented on the public record.

Secretary of State John Kerry introduced the new variant of the Obama administration's familiar theme about Iran's "nefarious activities" in the region two weeks after Saudi Arabia began its bombing in Yemen on March 26, 2015. Kerry told the PBS NewsHour, "There are obviously supplies that have been coming from Iran," citing "a number of flights every single week that have been flying in." Kerry vowed that the United States was "not going to stand by while the region is destabilized."

Later, the administration began accusing Iran of using fishing boats to smuggle arms to the Houthis. The campaign unfolded in a series of four interceptions of small fishing boats or dhows in or near the Arabian Sea from September 2015 through March 2016. The four interceptions had two things in common: the boats did have illicit weapons alright, but the crews always said the ship was bound for Somalia – not Yemen and the Houthis.

But instead of acknowledging the obvious fact that the weapons were not related to the Iran-Houthi relationship, a U.S. military spokesman put out a statement in all four cases citing a U.S. "assessment" that the ultimate destination of the arms was Houthi-controlled territory in Yemen.

The choice of wording was significant. The intelligence community says that it "assesses" that something is true only when it does not have clear-cut proof on the matter. In the case of the alleged Iranian use of fishing dhows to smuggle arms to the Houthis, the U.S. spokesmen did not cite a single piece of evidence for that "assessment" in any of the four cases. In fact, when asked for some justification for it, the military spokesman refused.

The first fishing dhow was intercepted in the Arabian Sea on Sept. 25, 2015, by a member of a 31-nation coalition called the Combined Maritime Forces patrolling the Arabian Sea and nearby waters for piracy. The coalition ship found the dhow to be carrying 18 Konkurs anti-tank missiles, 71 other anti-tank shells and 54 missile-launchers.