This is the 2nd case that the government has lost over the Bundy Ranch standoff.
Congrats to the Bundys. They stood up to the thieves of the @BLMNational @BLMOregon and were victorious. #Bundytrial #bundyranch https://t.co/lBo15a36Eg
https://t.co/LPlIH6alAY "Deep State Utterly Broken: No guilty verdicts reached in Cliven Bundy Bunkerville ranch standoff! American People…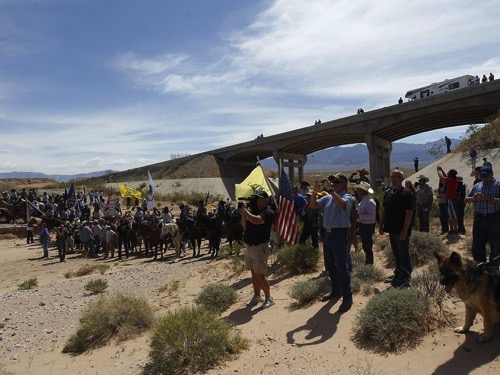 And the jury nullified the case. Brilliant.
Bundy Ranch standoff trial ends with zero guilty verdicts

A federal jury in Las Vegas did not return any guilty verdicts Tuesday against four men accused of taking up arms against federal agents during the Bundy Ranch standoff in 2014.

Jurors dealt government prosecutors a stinging defeat in the case when, after four days of deliberations, they returned not-guilty verdicts on the most serious charges and deadlocked on a handful of others.

Richard Lovelien of Oklahoma and Steven Stewart of Idaho were acquitted on all counts and walked out of court Tuesday night free after spending more than a year in prison.

…

This marks the second time a jury failed to convict the defendants on charges related to the standoff, which pitted armed ranchers and militia members against Bureau of Land Management agents in a dusty wash below Interstate 15 about 70 miles north of Las Vegas.

Social media exploded with posts on Twitter and Facebook from Bundy supporters, many of whom have maintained a sidewalk rally since the first trial of these defendants opened in February.

…

Judge's restrictions on the defense

Navarro's rulings, aimed at trying to avoid jury nullification, severely limited defense arguments. Jury nullification occurs when a jury returns a verdict based on its shared belief rather than on the evidence in a case.

Navarro barred defendants from discussing why they traveled thousands of miles to join protesters at the Bundy Ranch. She did not allow them to testify about perceived abuses by federal authorities during the cattle roundup that might have motivated them to participate.

Navarro also restricted defendants from raising constitutional arguments, or mounting any defense based on their First Amendment rights to free speech and their Second Amendment rights to bear arms. In her rulings, Navarro said those were not applicable arguments in the case.

Federal officials did not face the same restrictions. To show defendants were part of a conspiracy, they referenced events that happened months, or years, after the standoff.

Federal prosecutors, led by Acting Nevada U.S. Attorney Steven Myhre, argued in court the case wasn't about the First or Second Amendments; that the Constitution doesn't give people the right to threaten federal officers.

They said the Bundys' dispute with the BLM was adjudicated and the court issued a lawful order to round up the cattle. When ranchers and the militia conspired to force the release of the cattle, they broke the law, prosecutors argued.