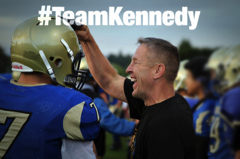 We're not talking holding a Billy Graham Crusade on the 50 yard-line. Coach Kennedy would take a knee, bow his head, and thank God for a good and safe game.
That's illegal.
A Washington state high school football coach who was punished for taking a knee at the 50-yard line for a post-game prayer violated the U.S. Constitution, according to the U.S. 9th Circuit Court of Appeals.

A three-judge panel ruled the Bremerton School District was justified in suspending Coach Joe Kennedy after he took a knee and prayed silently at mid-field after football games.

"When Kennedy kneeled and prayed on the fifty-yard line immediately after games while in view of students and parents, he spoke as a public employee, not as a private citizen, and his speech therefore was constitutionally unprotected," the 9th Circuit wrote.

Kennedy, who served as an assistant coach at Bremerton High School from 2008-2015, was ordered to refrain from bowing his head, taking a knee or doing anything that could be perceived as praying on public school property.
This sums it up well: It's a nation where football players can take a knee to disrespect the flag, but a coach can't take a knee to pray to the Almighty.