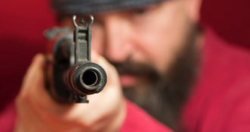 It goes against the meta-narritive about Islam being a Religion of Peace.™ 
A man with close ties to a terror network affiliated with Islamic State shot two police officers and one civilian in Copenhagen Wednesday night.

One of the police officers is fighting for his life while the other two victims are in stable condition. The suspect is also in critical condition after sustaining injuries during his arrest.

Shootings of this kind are very rare in Denmark and parts of Copenhagen were put on lockdown as police searched for the shooter. The suspect, a 25-year-old Bosnia-born Danish citizen, was arrested Thursday morning after another shootout with police.

People started to speculate that the shooting was a terrorist attack when the identity of the suspect started to spread online. The man is linked to militant Islamist group Millatu Ibrahim and has openly expressed support for Islamic State.

Danish police released a statement saying they currently have "no evidence" to support that the suspect's terrorist sympathies had anything to do with shooting. They are instead charging him with attempted murder and drug trafficking for dealing large amounts of cannabis.

"It may look a little strange that police in the same press release explains some ideas and sympathies of the alleged offender, while also updating that it has nothing to do with the shooting," legal analyst Mette Mayli Albaek told public broadcaster DR.

The shooting took place in the Christiania commune, a self-proclaimed autonomous neighborhood where a majority of Denmark's drug trade takes place.
Via the Daily Caller