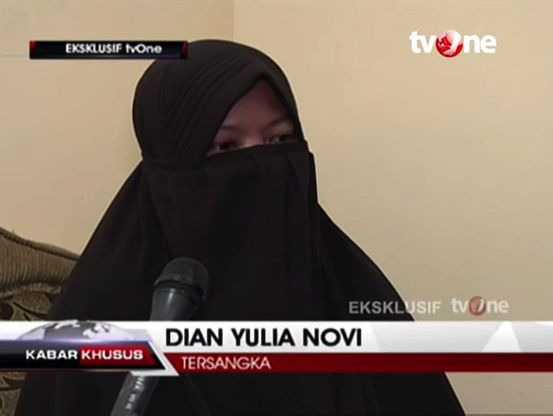 This is a new one on me. I know about men receiving 72 perpetual voluptuous virgins for committing jihad. But women getting their parents into heaven?
"Jakarta woman defends suicide terror plot," by Lauren Farrow and Heru Rahadi, Australian Associated Press, August 10, 2017:
A woman alleged to be Indonesia's first would-be suicide bomber has told her trial that she believed the terror attack would help her parents "enter heaven".

Dian Yulia Novi, along with six others including her husband, is accused of plotting a suicide-bomb attack targeting guards at the Presidential Palace in Jakarta in December last year.

The 28-year-old told her trial at East Jakarta District Court on Wednesday that she was motivated to carry out the plot to create "good deeds" for her parents.

"The blessing from 'jihad' could help my parents enter heaven," Novi said.

"Suicide is for people who are desperate in their life while I wasn't desperate in life. (Jihad) for me is a (good) deed to uphold 'dien' (religion) in Indonesia."

Her trial has heard that she was working as a migrant worker in Taiwan in around 2015 when she became active on social media and began accessing 'jihad' site.

She then contacted "matchmaker" Tutin Sugiarti and spoke of her intention to carry out a suicide bombing, wishing to be married before doing so.

This set in motion her online meeting Muhamad Nur Solikin, who she married in a long distance wedding ceremony in October last year.

Between December 3 and December 7, it is alleged the pair, along with three other men bought a pressure cooker and rented a house in preparation to make a bomb.

All this, prosecutors allege, was done under the direction of Bahrun Naim, an Indonesian member of the Islamic State group in Syria….