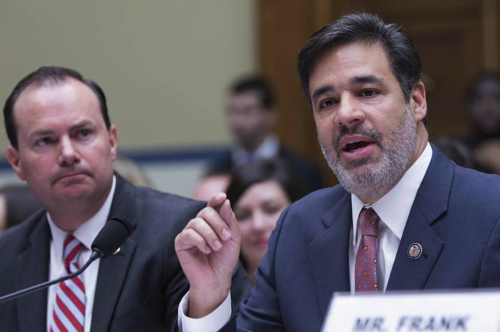 Posted here in full. This is a significant move by our Idaho Rep. Raúl Labrador. 
He's also looking older and grayer than last time I saw him. The stress of the job must we weighing on him. 
A year after the U.S. Supreme Court gave same-sex couples the right to marry, Republicans in the House of Representatives moved Tuesday to advance a bill that would give new federal protections to those who say they oppose gay marriage on moral grounds.

NO AMERICAN SHOULD BE THREATENED OR INTIMIDATED BECAUSE OF THEIR BELIEF IN TRADITIONAL MARRIAGE.Idaho Republican Rep. Raul Labrador

"No American should be threatened or intimidated because of their belief in traditional marriage," said Idaho Republican Rep. Raúl Labrador, testifying before the House Committee on Oversight and Government Reform.

His bill quickly ignited a new fight over same-sex marriage on Capitol Hill, with critics accusing Labrador and other backers of trying to discriminate against gay and lesbian couples.

"I believe that the United States Congress must be better than this," said Jim Obergefell, the lead plaintiff in last year's Supreme Court case, which he won on a 5-4 ruling after challenging an Ohio law that prevented him from marrying his male partner.

I BELIEVE THAT THE UNITED STATES CONGRESS MUST BE BETTER THAN THIS.Jim Obergefell, the lead plaintiff in last year's same-sex marriage case decided 5-4 by the Supreme Court

Labrador has lined up a majority of House Republicans – 171 so far – to co-sponsor his bill, called the First Amendment Defense Act. Donald Trump, the Republican presidential candidate, has already said he'd sign the bill if it passed Congress.

Labrador said Congress must act to protect the religious liberties of Americans after the landmark Supreme Court ruling.

His bill would prevent any federal agency from denying a tax exemption, grant, contract or license to any person or business based on their beliefs regarding marriage.

"Over the past several years we have seen a shift away from our nation's long-held beliefs in the value of religious freedom, particularly where an individual's religious belief or moral conviction that marriage is the union of one man and one woman is concerned," Labrador said. "This growing intolerance has spawned a climate of intimidation in the public sphere."

Labrador said his intent was not to discriminate against anyone, adding that it "does not take away anyone's rights."

Seventy gay rights and civil rights groups were unconvinced, urging Utah Republican Rep. Jason Chaffetz, the committee chairman, to cancel the hearing, with no luck.

Many critics objected to the timing, saying it was insensitive.

Obergefell said it was "profoundly sad" that Labrador's bill got its first hearing only a month after 49 people were murdered at a gay nightclub in Orlando.

"It is my opinion that a hearing like we're having today would have been much better spent in looking at how best to ensure that no one in this country is subjected to violence or discrimination based on who they are or whom they love," he told the panel.

Democratic former Rep. Barney Frank of Massachusetts said the legislation was "motivated solely by an animus against lesbian, gay, bisexual and transgender people" and could have far-reaching effects.

"I really resent the fact that you're having this hearing. We don't deserve the unkindness and the disrespect that we get," he told the panel.

WE DON'T DESERVE THE UNKINDNESS AND THE DISRESPECT THAT WE GET.Former Democratic Rep. Barney Frank of Massachusetts

Matthew Franck, the director of the William E. and Carol G. Simon Center on Religion and the Constitution at the Witherspoon Institute in Princeton, New Jersey, called the bill an appropriate response to the Supreme Court ruling. He said the court had "changed the meaning of the Constitution in order to impose on the entire country a change in the meaning of marriage."

"It is not surprising that such a sweeping decision, rendered by such a closely divided court, lacks legitimacy in the minds of many Americans," Franck said.

Labrador and Utah Republican Sen. Mike Lee, the chief author of a companion bill in the Senate, said the legislation would not override any state discrimination laws.

"The most important feature of the First Amendment Defense Act is its exceptionally narrow scope," Lee said.

THE MOST IMPORTANT FEATURE OF THE FIRST AMENDMENT DEFENSE ACT IS ITS EXCEPTIONALLY NARROW SCOPE.Utah Republican Sen. Mike Lee

The bill would give a legal shield to religiously affiliated colleges and universities, such as Brigham Young University and Baylor University, that have religious traditions discouraging sexual intimacy outside of marriage, even between heterosexual couples. It would protect their tax-exempt status and their ability to compete for federal contracts and grants. Similar protections would be granted to religiously affiliated preschools, elementary schools and high schools, along with faith-based charities such as the Salvation Army.

Katherine Franke, a professor at the Columbia Law School in New York, told the committee that religious liberties in the United States "are already well protected" and Labrador's bill would be unnecessary and harmful. She said it would "incapacitate the federal government from enforcing a wide range of laws, policies and regulations" now on the books.

The bill has strong backing among the Idaho congressional delegation, with GOP Sens. Jim Risch and Mike Crapo signing on as co-sponsors. Republican Rep. Mike Simpson is undecided.

The issue is sure to play in the November elections.

Labrador's Democratic opponent in the election, James Piotrowski, called the legislation "dangerous and extreme," adding that Labrador was "inciting more hatred and more division by advancing this bill."

The hearing came the day after Republican officials, gathered in Cleveland to write their party's platform before next week's national convention, decided to hold firm to their long-standing opposition to same-sex marriage.