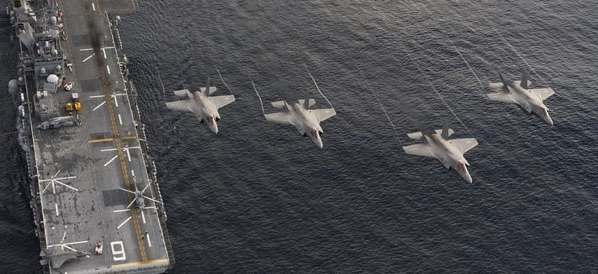 The General in charge of the F-35 project criticized Trump for his Tweet saying the F-35 is too expensive.
The General reports that the project only needs another half a billion dollars. The F-35 project will cost over $1 trillion dollars total.
One week after president-elect Donald Trump criticized the high cost of the F-35 Joint Strike Fighter — the Pentagon's most expensive weapons program — the general in charge of the project warned it might need more money and time to complete flight testing.

Lt. Gen. Chris Bogdan defended the U.S. military's need for the stealthy jet and touted his track record in helping right a struggling project.

Just one week ago, Trump tweeted: "The F-35 program and cost is out of control."

"This program is not out of control," the blunt-talking Bogdan said Monday when asked what misconception about the F-35 program he would like to leave behind entering 2017.

Bogdan, who took charge of the F-35 program four years ago, has been known for his tough talk on Lockheed Martin, which builds the plane, and Pratt & Whitney, which makes its engine. The general routinely points out, as he did again on Monday, the project has been in much better shape since 2011, when Pentagon leaders put a plan in place to fix a decade of mismanagement, underperformance, delays, and cost overruns.

But Bogdan did something on Monday he hasn't had to do since taking the F-35's reins: declare that he will need more money to finish flight testing. In 2011, when the Pentagon "reset" the project, officials predicted flight testing would conclude by Oct. 31, 2017. Bogdan has previously said that date could slip several months. He now predicts flight testing will now finish by Feb. 28, 2018, and Pentagon officials say it could wrap as late as May 2018.

Up to $532 million will be needed, Bogdan said. That will cover $100 million removed from the F-35 accounts by Pentagon leaders in 2014 for other, unrelated projects. Another $165 million was used to meet new requirements for the aircraft that have been added since 2011. The remaining $267 million, he said, is due to problems that have arisen over the past five years.