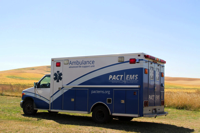 Via Bring To Light:
…

One persistent difficulty, which has been insufficiently addressed for many years by the current system, is the need for consistent and timely inter-facility patient transport. A frequent example of this is when Gritman Medical Center needs to transfer a patient to Sacred Heart Medical Center in Spokane, WA for a procedure that may not be available in Moscow's own hospital.

Moscow Ambulance has been unable to fill this need in a timely fashion. Nurses at Gritman were directed to "please exhaust all other options for transfer… within a reasonable amount of time." They were told to consider transport by air, and to contact Lewiston, AMR, and Kootenai ambulance services before requesting service from Moscow's own ambulance company. [1]

Former Fire Chief, Ed Button further demonstrated this in a meeting with the city council. He said, "[The department] has been criticized for not being able to transfer care to a facility in Spokane." He says, "We do not have a paramedic available at that particular time of day or night. We do not do it on a consistent basis." [2]

Here's an example of how badly things can go when a hospital does not have access to patient transport services: On March 9th, 2009, Merrill Conitz's wife watched him die while waiting for an ambulance to transport him from Gritman to a hospital with a higher level of care. The ambulance never came.