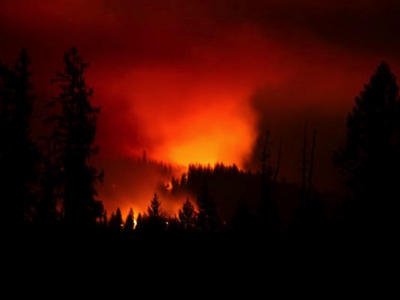 Fire in Latah County.
HARVARD, Idaho – Crews are working to put out an estimated 900 acre fire near Harvard, Idaho.

UPDATE @ 4:30 p.m: There are 17 engines on site to control the fire. There are two helicopters also there flying reconnaissance.

According to witnesses, the Strychnine Fire started some time Saturday. Latah County dispatchers said the fire, burning about five miles northeast of Harvard, has forced evacuations at Laird Park and Boy Scout Camp Grizzly.

Idaho Department of Lands officials said a type two team had been ordered to help fight the fire. As of 8:00 a.m. Sunday, they were on their way. Authorities said six engines were on scene Sunday working to put out the flames.
Department of Lands officials said the fire is burning in heavy timber and it is not in a heavily populated area.