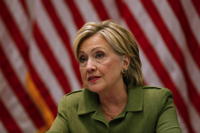 Here we go again. I'm still expecting that the juicy ones won't leak until it's time for the October Surprise!
Just because the US Attorney General isn't bringing charges over Hillary Clinton's private email server doesn't mean that it's all over — far from it. FBI investigators have unearthed 14,900 more files (email and documents) on the server, or almost 50 percent more than Clinton's lawyers originally turned over to the State Department. Just what's in those documents isn't clear, although they come from a disc the FBI obtained that includes email and attachments sent directly to or from the former Secretary of State. Clinton's attorneys had initially turned over 'just' 30,000 messages that they considered work-related, although the FBI didn't find signs that she or her staff had deleted anything in a bid to hide it.

Whatever the contents, Clinton will face added pressure. A judge in a lawsuit over public records has tossed the State Department's proposed plans to release documents starting October 14th, and is pushing for an earlier release. That won't happen too much sooner if the judge is successful (the Department will only have to present a revised plan on September 22nd), but it'll be enough to shake up the government's disclosure strategy.