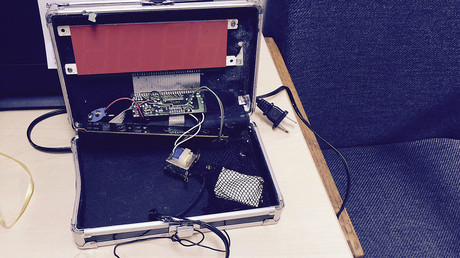 The family of a 14-year-old who was arrested in September for bringing a homemade clock to his Texas high school and then charged with having a "hoax bomb" has filed a federal lawsuit against school officials for violating his civil rights.
 

"For the safety of my family, I have to go back to Qatar, because right now it's not very safe for my family or for anyone who's a minority," Ahmed said Monday.

 

The suit claims that Mohamed's was discriminated against by school officials, the school district, and the state Board of Education. His right to equal protection under the law was violated and police arrested him without probably cause, the suit added.

 

"History tells us that when we have stood tall and proud for equality and freedom, we have grown as a nation," the suit said. "When we have given in to fear and hate, we flounder."

 

 

Mohamed, who is now visiting the US, will start 10th grade at Qatar Academy next month, the AP reported. He said Monday that he will not go outside while in the US without a hat, sunglasses, and a hooded sweatshirt.

 

"I can't walk out of the house without being covered up because I might get shot because that happens here," he said.

 

In November, the family asked the school district and city to pay $15 million or face a lawsuit. The school district said it will review the suit to determine a next step. The district has denied that Mohamed was treated the way he was based on his Islamic faith.

 

"Irving ISD continues to deny violating the student's rights and will respond to claims in accordance with court rules," Lesley Weaver, a school district spokeswoman, told the Associated Press.

 

The school district is under investigation by the US Department of Justice for an alleged history of discrimination against minority students.



Read more here