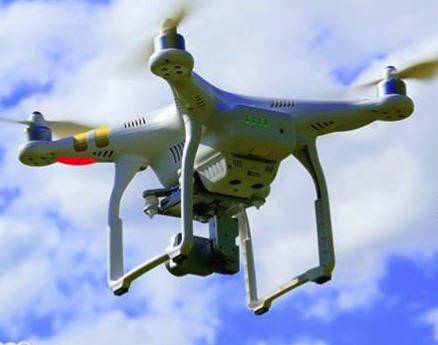 Not only are our police departments militarized, now they are spying on us from the air. Via KQQQ: 
The Pullman Police Department has received approval from the federal government to fully operate its new drones.  The Federal Aviation Administration recently granted the Pullman PD a certificate of authorization to operate drones.  The agency spent about 10,000 dollars on 4 drones last year.  Three officers already had individual licenses to fly for the department.  The new agency license means the Pullman PD can now train its own drone pilots, fly at night and respond to incidents in nearby jurisdictions.  The authorization allows Pullman Police drones to be deployed in several regional counties in both Washington and Idaho.  The PPD has already deployed the drones including flights to search for a suspect who fled from a traffic stop, document major crime scenes, support Quad Cities Drug Task Force operations and evaluate traffic jams.   
And they are spying on us across state lines! Via KLEW:
The Federal Aviation Administration issued Pullman Police Department their drone certification.

They can now fly over a total of 7 counties in Washington and Idaho.

Just last week PPD'S drones helped Washington State Patrol search for a driver who ran away from them.

The added perspective from the air enabled Pullman officers to provide assistance, then return to patrol quickly.

They've also documented major crime scenes, supported Quad Cities Drug Task Force operations and evaluated traffic patterns during major athletic events,

Officer Alex Gordon is one of the drone pilots and is now a certified Federal Aviation Administration Pilot.

He spent almost 30 hours learning to fly and how to use all the features.

"One of the features is that we can set it to follow objects or things we've used that somewhat to try and test with us to follow a patrol car," Gordon said.

They've also used it during training exercises to review their formations and driving.

It will help the most when dealing with elevation they can search faster, maneuver hills and buildings.

It also helps police in potentially dangerous situations.

"We also have the availability of a heads up display so if it needs to go inside a structure officers can look using the heads up display and still navigate," Chief Jenkins said.

Instead of an officer, they can send in their drone first just in case of an ambush.

Four new drones, roughly $10,000 investment the chief says is worth every penny.

"It definitely makes us more efficient and helps make the community safer," Chief Jenkins said.