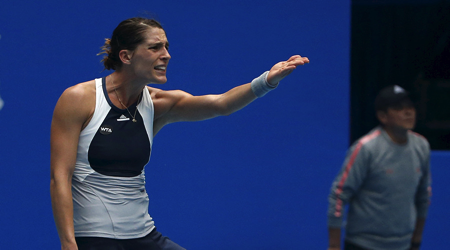 The US Tennis Association was left red faced after playing part of the German national anthem used during the Nazi period at the Fed Cup tournament in Hawaii. Germany's Andrea Petkovic described it as "the worst thing that has ever happened to me."
The offensive first stanza has been banned in Germany since the end of the Second World War, but it was precisely those bars that were played during the opening ceremony of the quarter final match on Saturday between the Alison Riske of the US and Germany's Andrea Petkovic.

Riske subsequently beat Petkovic, who described hearing the verse as the "epitome of ignorance."

"I've never felt more disrespected in my whole life, let alone in Fed Cup, and I've played Fed Cup for 13 years now and it is the worst thing that has ever happened to me," she said, stressing "It's 2017 – something like this simply should not happen in the United States."
The USTA extends a sincere apology to the German Fed Cup team & fans 4 the outdated National Anthem. This mistake will not occur again.
US tennis association is apparently run by idiots, how,do,you play the Nazi germany anthem instead of the reformed one ?